JCARA now offers test sessions!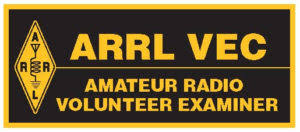 JCARA will start offering testing beginning in March of 2019.
We have established a new VE Team to offer amateur license testing through the ARRL VEC.
Testing will be given according to the posted test schedule. Special sessions will be given consideration depending on the number of attendees and VE scheduling parameters. Special considerations for persons needing special accommodations requires advance notice so we may do everything possible for you to take your test.
REQUIREMENTS for Initial Testing
If you are just starting out in Amateur Radio, your first step is to obtain your Technician Class license. You have studied and are ready to take the exam. What do you need to bring with you? You will have to provide the following:
Government Issued Photo ID: Drivers License, US Passport or non-driver photo ID.
 Social Security Card;
 Birth certificate (must have the appropriate seal);
 Minor's work permit, school report card, school ID card or library card;
 Utility bill, bank statement or other business correspondence that specifically names the person
 Postmarked envelope addressed to the person at his or her current mailing address as it appears on the Form 605.
Licensed Amateur Operators who are upgrading their license class should bring a copy of their FCC License with them. We do not have the ability to make copies.
The testing schedule is listed under a sub menu in this topic.
Preregistration is required. This insures that we have enough exam materials on hand to accommodate the number of people testing at that session. Walk -in candidates will be subject to materials on hand and processed after the preregistered candidates. Go to the Pre Registration menu for instructions.
Test Fees : The fee for taking your amateur license test is $15.
Cash only, we do not accept checks or credit cards. Exact change please.
If you pass your test and wish to take the next element you will not have to pay another test fee during the same session. For example: You take Element 2 (Technician) and pass, you may take Element 3 (General Class), and if successful go on to Amateur Extra.
Should you not pass your test, you will be subject to the $15 fee to retest for the element you have failed and wish to retest.